Professional Mosquito Treatments Near You
Mosquitoes are a common nuisance in Katy, and understanding their behavior is crucial for effective control. These blood-sucking pests thrive in warm and humid environments, making Katy an ideal breeding ground. They lay their eggs in standing water, which is abundant in this area. Without proper intervention, a small mosquito issue can quickly escalate into a full-blown infestation.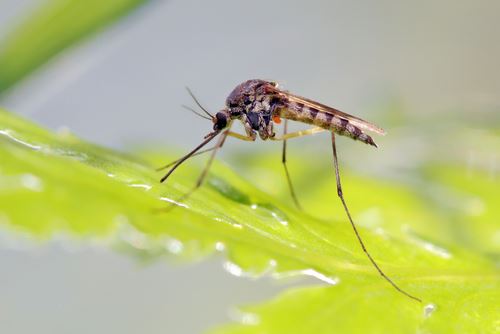 If your yard has been overtaken by mosquitoes, you don't have to suffer! Preventive Pest Control offers effective mosquito treatments in Katy to help you eliminate these pests and keep them away.
---
Get a quote for our Katy mosquito control services when you call (713) 955-7405.
---
Mosquito Activity in Greater Houston
In Katy and the greater Houston area, mosquitoes are most active during the warmer months, typically from late spring through early fall. The peak activity occurs during dawn and dusk, when temperatures are milder. This is when they are most likely to bite and transmit diseases. Effective mosquito control strategies should take into account these peak activity times.
What Attracts Mosquitoes?
Understanding what attracts mosquitoes can help homeowners take proactive measures. Here are some common attractants to be aware of:
Stagnant Water: Mosquitoes breed in standing water, so eliminating any sources around your property is crucial.
Floral Scents: Certain flowers and plants emit scents that attract mosquitoes.
Body Odor: The carbon dioxide we exhale, combined with body heat, attracts mosquitoes.
Dark Clothing: Dark colors absorb heat, making individuals wearing them more appealing to mosquitoes.
Outdoor Lighting: Mosquitoes are drawn to light, so consider using yellow bug lights in outdoor fixtures.
Mosquitoes and Disease Transmission
Mosquitoes are notorious carriers of diseases like West Nile Virus, Zika Virus, and various types of encephalitis. In Katy, it's essential to take mosquito control seriously to protect your family and pets from these potential health risks. Professional pest control services are equipped to handle these concerns safely and effectively.
Pest Packages
Pest Protection For As Low As $38/Month!
Professional Mosquito Control in Katy, TX
While there are several DIY methods for mosquito control, they often provide only temporary relief. To achieve long-lasting results, it's recommended to invest in professional pest control services. The trained technicians at Preventive Pest Control employ advanced techniques and eco-friendly treatments to eliminate existing infestations and prevent future ones. With specialized knowledge of Katy's unique pest challenges, we provide tailored solutions for effective mosquito control.
---
Don't let mosquitoes take over your outdoor space—contact us today for expert Katy mosquito control and treatments.
---
"Have used this company for more than 10 years. Always very responsive and accommodating to scheduling service based on availability. Company offers follow up spot treatment if issues occur between services at no charge."

"Most amazing company in the world! If you are going through reviews wondering if you should consider this company for Services or employment...DO IT! The owner Jeremy always invest time and money into his company's employees, marketing, research, training...EVERYTHING! The branch manager Jonny and all the other mangers are lovely people to work with. Ive had the chance the see everything from behind the scenes and they are awesome! I'd recommend them to anyone any day. Give them a call pronto if your need a reliable company for pest control SERIOUSLY! (P.S not being paid for this , just expressing my personal experience)"

"We have been using preventive pest control for years! Back when Harvey hit, we had a pest problem roaches and rats. They knocked them out quick. They listen to you. They give feedback and what solution would be for your home. Totally recommend"

"I highly recommend Preventative Pest Control for all your pest control needs. Not only do they treat my home quarterly but they also rodent-proofed our home. Any concerns, they are "johnny on the spot"!! Excellent service in the most professional manner....from the office to the techs that come out to my home. You will not be disappointed."

"I'm giving this five stars, for two reasons; 1. The staff you speak to on the phone are incredibly polite! If you have a problem, they will listen and do their 100% best to solve it. 2. When I had my initial service done, I felt, at the time, that it was not to my expectations. Immediately I called the customer service folks. The very next day they sent out a manager to come fix any concerns I had. I recommend this company because their prices are low and their service is excellent."

"Jonathan the technician came out did our first service. He explained everything he was going to do and what it was supposed to do and asked if we had any particular questions. It was one of the best services we had ever had from a pest control company in regards to the technician, I would recommend preventative pest control and Jonathan to anyone"

"Thank you Paul and Justice for your patience with our 50 questions : ) Very Polite and educated on the issue at hand. I am beyond terrified of anything that creeps and crawls especially in my attic. You were both calm, cool, and collective while I was ready to bolt out my front door. Lol Thanks for helping our family keep the raccoons from causing anymore destruction."

"It was a great experience having preventive pest control come out. They were very thorough and answered all of my questions! The customer service was outstanding. And the price was very reasonable. I definitely 100% recommend them!"

"We have been faithful customer's for many years in 2 different homes in The Woodlands.  The guys were always professional and left service cards at the door.  When we moved to the last home in 2014, we had a major cutter ant issue!!  They appeared out of nowhere and were destroying everything in sight!  I called the office in a panic and the gal got someone out the very next day.  He not only took care of all the beds, he followed the ant trail all the way to the back of the preserve and knocked those suckers out! We now live in Denver, Colorado. I was so pleased to find a locally owned Preventative Pest control - they are awesome too. When we move back to TW, I'll just pick right back up with you guys!"

"

I have been using Preventive Pest for almost 5 years now. They're extremely responsive, always on time, and have great techs. Joe has come out to the house many times and is always friendly and thorough!

"

"I absolutely love this company. As a new member & proud subscriber, I was very impressed. Mr. Cordell & the sweet staff ladies (I can't remember their names), were so nice to me. I will continue getting their services. They made my new home much safer for me & my daughter to treat the pest. Again thank you all so much for all you do."

"The service was very professional and the technician was on time responsive to every question that I ask. And the phone service put me at ease and very patient with my questions and concerns I knew I had made the right choice"

"We've been a customer for seven years now, never had an issue! Even if they're only doing an exterior service, they are thorough. They greet me at the start and return at the end to let me know of any concerns they might have seen! I highly recommend them!"

"The staff at preventive pest control are always professional and make sure to listen and respond quickly to any and all questions and issues we see. I would recommend them to everyone!"

"Cordell was great and patient with answering all of my questions and giving me and my family time to decide on which service, if any, to purchase. I would recommend this company to anyone who needs pest removal in the Houston area."