Houston Termite Control
Preventive Pest Finds, Eliminates & Prevents Termite Infestations
Unless you live in the middle of the Alaskan wilderness, where snow and ice cover the ground for well over half of the average year, there's a good chance that there are termites underfoot. Termites are one of the most plentiful insects on the planet, and every year they infest a whopping five million homes. Here in the Houston area, that means thousands or even tens of thousands of homes are damaged by these tiny insects every year, to the tune of millions of dollars' worth of damage. Think you're going to get help fixing it from your insurance company? Think again: insurance companies view termite damage as ultimately preventable, and they don't cover it. That's why you need a quality termite prevention system from the Houston termite control experts at Preventive Pest Control.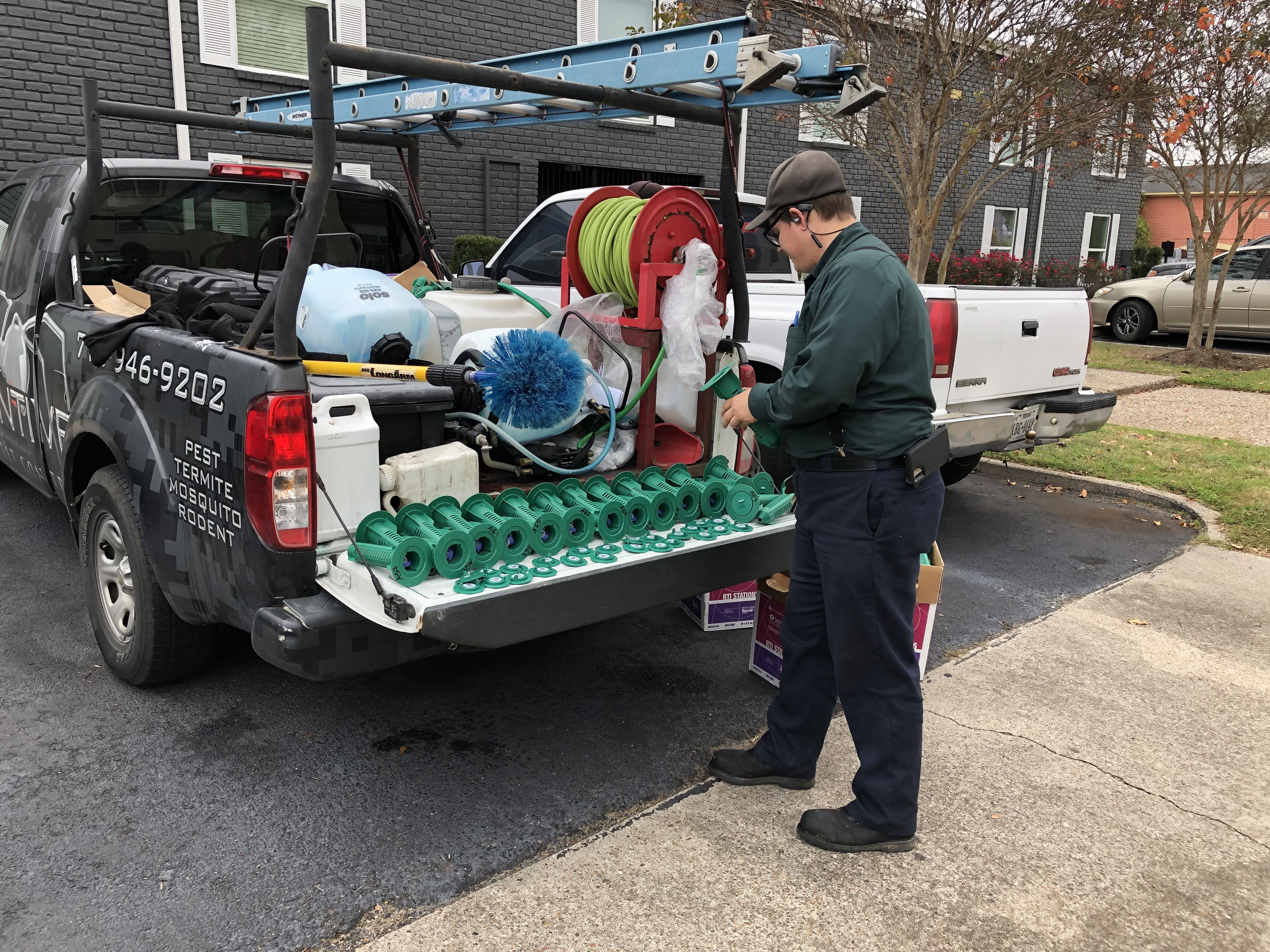 Here at Preventive Pest Control, termites are our specialty. Our technicians have been highly-trained in termite behavior, signs of termite damage, and tools and techniques to stop and remove termite problems for good. We don't just locate termites, we find where they've found their way into your home, how much damage they have caused, and how you can stop them from continuing to wreak havoc on your home's structure. We use the latest methods, including the Sentricon® termite system—one of the most effective termite prevention systems available today. We offer termite services for both residential and commercial structures, meaning you can give us a call for any termite problems you might have!
See for yourself why customers have been able to turn to us for their termite problems for nearly two decades! Call Preventive Pest Control at (713) 955-7405 and request your Houston termite control service today.
Signs You Have a Termite Problem
If you have a termite problem, you need to reach out and contact a professional right away. A single termite may not be able to do all that much, but the problem is termites are never alone—they're usually backed up by thousands or even millions of others in a single colony. A termite of that size could cause thousands and thousands of dollars of damage to your home in as little as a few months, and you may never even have been aware they were there. You can't afford to take that risk; check out some of the signs of termites below and call right away if you find any of them.
You may have a termite problem if you find any of the following signs of termites in your home:
Termite droppings
A very soft tapping sound inside your walls (this is the sound of termite soldiers communicating)
Flying termites (swarmers, a type of termite intended to spread and form new colonies)
Papery or hollow-sounding timber
Visible tunnels in visible wood
Tight-fitting doors or hard-to-open windows
White ants walking through your home (they aren't ants, they're termites).
When your home is your most important investment, the last thing you want to leave its protection to is guesswork. What's where our crew shines. Nearly two decades and thousands of homes serviced later, we remain one of the most renowned and reliable names in Houston termite control services. Customers know they can come to us when they demand results, and we'll make sure we get the job done right so your peace of mind is completely uncompromised.
How To Prevent The Need For Termite Control
1. Avoid wood-to-soil contact - The best way to avoid termites altogether is to ensure that during the construction of your home that all wooden floorboards are elevated off of the ground. Keep fire wood and anything else that's wooden off the ground.
2. Dehumidify and questionable areas - If you have any crawl spaces or wooden areas underneath your deck, you should consider installing a dehumidifier to avoid needing to call in our Houston termite control experts.
3. Avoid using mulch if possible - Since mulch does an excellent job of retaining moisture, termites love it even if they don't necessarily feast on it. Try using gravel or rocks as a substitute and if you must use mulch, make sure it's not touching your home.
4. Act quickly on slab leaks or any moisture around your foundation- Not only can slab leaks throw off the entire foundation of your home, but they can provide termites the moisture level they need to thrive.
The Sentricon Termite System
The Sentricon® termite system uses the instincts of termites against them. Unlike liquid protection systems that are extremely expensive and tedious to install (not to mention fairly short-lived), the Sentricon system is designed to provide long-lasting termite protection by actively eliminating colonies from the inside out. The Sentricon system consists of several strategically-placed stakes that are packed with termite bait that has been scientifically proven to be more attractive than actual wood.
What the termite workers who collect this bait thinking it's a great meal don't know is that they have just poisoned themselves, and their entire colony with it. The bait has an undetectable termite poison in it, which is passed from worker to worker as they continue to forage and search for more food. Eventually, the workers die, but not before passing the bait to several others. Eventually, the workers all die out, and with it, dies out a colony's food source. Once the food source dies out, so does the colony. However, the process is also expedited by the workers who bring the bait back to the colony—the poison in the bait passes from termite to termite like wildfire, quickly eliminating thousands and thousands of these bugs underground. As a result, they never reach your home, and you're left safe and protected.
Do you need termite control in Houston or surrounding areas? Don't hesitate; contact Preventive Pest Control to get started on your elimination and prevention service today.
More Information on Termites:
Could You Use A Break? We're Here to Help!
$125

German Cockroach Clean Out

Valid only with the purchase of a Service Program. Cleanouts starting at $125.

Valid from Apr 28, 2020 - Dec 31, 2021

Free

Termite Inspection

Valid from Apr 28, 2020 - Dec 31, 2021

$100 Off

Initial Pest Service

Take $100 off your initial service when you get started on one of our service programs.

Valid from Apr 28, 2020 - Dec 31, 2021

15% Off

Fire Ant Treatment

Enjoy Your Yard Even More by Getting Rid of the Fire Ants with the Industry-Leading Products.

Cannot be combined with any other offers

Valid from Apr 28, 2020 - Dec 31, 2021

Free

Rodent Attic and Entry Point Inspection

Cannot be combined with any other offers

Valid from Sep 28, 2020 - Dec 31, 2021

$29

Initial Mosquito Service

Start protecting your home for as little as $29 when you purchase one of our mosquito protection plans.

Does not include mosquito misting systems

Valid from Mar 1, 2021 - Nov 30, 2021
We Care About Your Experience,
and It Shows
I knew I had made the right choice - Myranda G.

They give feedback and what solution would be for your home. Totally recommend - Surgical Tech

Thanks for helping our family keep the raccoons from causing anymore destruction. - H&P

Most amazing company in the world! - Anastasia S.

I highly recommend them! - Angela D.